This is what happens when your friends are over, and your attention seeking 8 year old acts out until she is finally sent to her room for being obnoxious. She draws pictures of us in revenge!! (unfortunately you can't see the whole picture in this blog....so visit my myspace blog if you want to see the full version)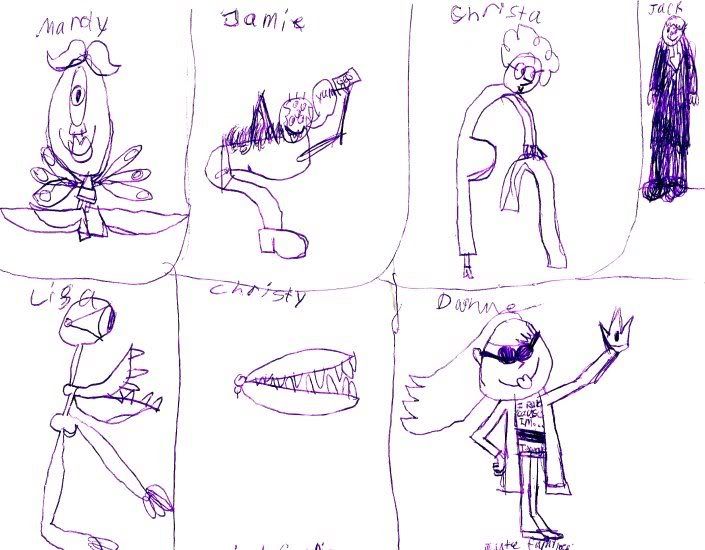 As you can see, all Mandy cares about is all her big shoes and all the jewelry all over her big giant fingers. And her big lips. We 're not sure why she has one eye. That's a mystery.
Jaimee has back hair, has many eyes, and is drinking gas. Because she likes to fart a lot.
Out of all the weird ones, Christa's portrait seems to be the most normal. In her photo, she's old and frail and pregnant. She looks pretty harmless. I'd love to know they psychology behind some of these, lol.
Next is baby Jack. He's tall, skinny, and handsome in his suit and tie. She obviously likes him and did not blame him for all of our awful behaviour toward her.
Next we have Lisa, with her big mechanical eye and giant sharp-toothy jaws!
Then, there's me. I'm a clam with teeth.
And of course, the last drawing is of herself, holding up her crown.
She sure showed us! Perhaps it's one of those had-to-be-there moments, but we laughed uncontrollably for awhlie.